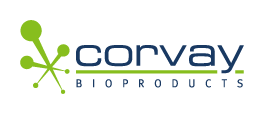 Innovative Bioprocesses for Bioeconomy
Corvay Bioproducts was founded at the end of 2018 in Halle and is now located in Cologne at the area of the BioCampus. The founding team of former board members and CEOs in the chemical industry have excellent international knowledge of markets for bio-technically produced speciality chemicals as well as of bioprocess technology. The company specializes in the development of innovative bioprocesses and their scaling in pilot-, demonstrations, and production benchmark. It possesses the know-how, patents and production processes for biotechnological production of long-chain dicarboxylic acids, particularly 100% Bio-Dodecanedioic acid (DDDA), an attractive resource for the plastics, adhesives, coating and perfume industry
Our Trilogy for your success
Long-time practice in biotechnological production
We have experience in the production of multiple 1000 t industrial enzymes, organic acids, aromatics and flavours.
Biotechnical and chemical process technology from one source
For decades we develop processes for fermentation, enzymic or cellular bioconversion and following refinement and product purification, with the combined knowledge of Biotechnologists and Chemists.
Holistic approach
We look at the entire cycle of a process, including usage of resources and auxiliaries, water, energy and resulting residues and advise our customers with optimisation of carbon footprint and life cycle observation in the spirit of the circular economy
Long-chain dicarboxylic acids
Corvay Bioproducts has acquired patents and production strains as well as procedure protocols for production of long-chain di-acids from vegetable fatty acids developed its own know-how for treatment and purification and filed the respective patents. The company is looking for strategic partners and investors for the scaling of the procedures on a pilot- and demonstration scale.
Did we raise your curiosity?
Talk to us!